Summer Job '96:
Heritage Reservation
Greater Pittsburgh Council, Boy Scouts of America
All three camps: Independence, Liberty, and Freedom overlook the beautiful lake courage. This picture overlooks the boat docks at Camp Liberty
If you had asked me at the end of my Spring '96 semester at the University of Pittsburgh at Johnstown, what I would be doing this summer, I would probably have said 'I have no idea'. I began the summer volunteering a lot with my local ambulance company, and spending a lot of time on the internet.
During my time on the irc channel #scouting, I met a man by the name of John English who told me that his council was hiring camp staff to work at Heritage Reservation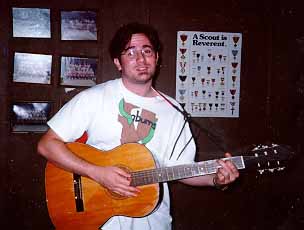 Bud!
One my best friends up at Heritage was Steve Davis, I never met anybody with as much energy as he had
So, I called up the Reservation, and was given my options of many different positions. I chose to work as trading post manager for Camp Liberty. I think I was pretty lucky that I got to work at Liberty.
I really didn't have much to do, so I volunteered to go up to camp staff a week early. That was when I met Craig Steele, Bill Badali, and Steve Davis. The four of us were filled with excitement and ready to take on the world. We had a large part of the staff area compeletely set up before any of the rest of the staff showed up. One night we even were talking about how the four of us could probably run the camp on our own. Granted, we were young and stupid, but it's nice to remember nonetheless.

The Wonderful Camp Liberty Staff
The last two weeks of camp staff, some circumstance arose which caused me to be transfered out of Camp Liberty, and work in the central staff as Reservation Health Officer. I really enjoyed the responsibility. I also have to admit that I was more cut out for Health Officer than I was for business anyway. Even though I had a blast working in the central area, I regret not being able to stay with Camp Liberty. I think that the staff at Liberty was just a little bit more special.