Summer Job '97: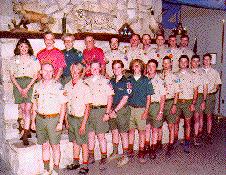 The 1997 Heritage Reservation Central Staff
I'm reminded of the theme song to cheer's. Sometimes you gotta go where everybody knows your name. I think that's probably why it was no question in my mind that I would be found as a staff member of Heritage Reservation during the 1997 summer year.
After last year, I learned how much I really enjoyed being a part of scouting, and I really enjoyed working with a group of people that loved scouting just as much.
Last summer, I started out as a Trading Post Manager for Camp Liberty, and I loved the people, but hated the job. I eventually moved to be Reservation Medical Director, a position I was much more suited for. This summer, I returned as Reservation Medical Director, and a member of the Reservation Management Team. The people were great, and so was the job.
The first year I worked for a summer camp was 1994, at Camp Conestoga for Westmoreland-Fayette Council, BSA. During that summer, I learned how much it really ruins you to get sick at camp. Unfortunately, illness struck me once again this year, and I was forced to miss almost an entire week of camp. It would have been a horrible situation for the Reservation if the Health Officer left sick. Fortunately, Ray Drutis, an assistant ranger and very good friend of mine has just finished his EMT exam, and filled in for me while I was gone.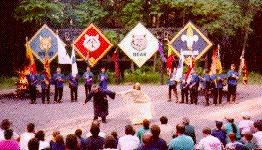 Independence: an example of perfect attitude.
I think one of the things I remember the most about Heritage, is the in-exaustable attitude of everybody. 120 people working together 24 hours a day for 10 weeks straight, and everyday a cheerful attitude. It took me some time my first year to adjust to it, but I had plenty of people setting the example for me to follow. This year, I needed to be one setting the example, and I was looking foward to it. All in all, it was a wonderfull year which will no doubt be a life long memory.
To conclude, as the 1997 Heritage Reservation Health Officer, I can report only one fatality... a box truck. Nice going Ray.....